How a whole village turns up to help in a purpose when there is no monetary benefit to them. Even when they find that what the travel company has come do in their own village is something commercial. We had this experience while putting our luxury tents in Nagaur Cattle Fair. It was a village known as Tausar where we took up a villager's open dry farm for pitching the tents. As it usually happens, an advance team goes a month in advance to make a luxury tented resort out of nowhere. Several truckloads of everything from fabrics, poles, canvas, beds, furniture, kitchen equipment, sanitary ware, plumbing and electrical fittings arrive from our warehouse to the site almost every day. A big team of diggers, assemblers, carpenters, plumbers, electricians, chefs and tourism professionals work together, many of them begin their job way before anything worth staying comes up.
Even the best teams to work need an air of positivity around. Tourism activity in India, to a large chunk, is about getting to know peoples and cultures. Especially when the purpose itself is to bring your tourists close to rural fairs, communities and social events. How to ensure that what is going to come up is not just a beautiful physical structure but has a soul of its own. How to ensure that when your tourists will come to spend their days here, they will not only feel completely safe but will find a friendly atmosphere which stimulates them to have their impromptus fun outing in the village and countryside. As a managing team we will be forever occupied in keeping the resort clean, well functioning and well decorated. We cook all meals ourselves and even lay the tables and do the service. It's neither possible nor our wish to follow each of our guests in their strolls and explorations outside. But we also wish that we know of their whereabouts so that we don't go searching if they don't turn up at the meal times. How to ensure that what we are doing makes a great sense in putting India forward as it should be. Despite the best possible team, the most helpful team is the local community.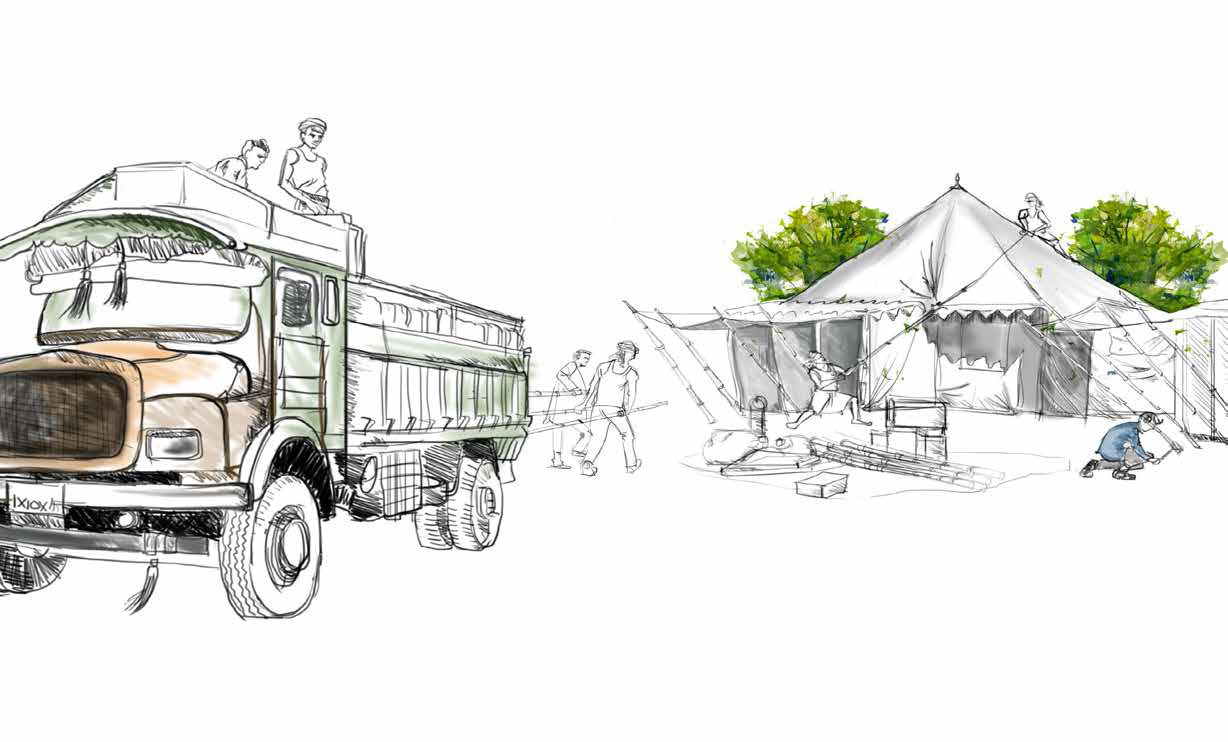 Pitching the tents in temporary locations is labour intensive and requires great teamwork
So in Nagaur, we had invited the local young boys to play cricket with us. A proper section of the ground which was to be later turned into parking was chosen. Branches of a couple of trees were used as watching pavilions. A local man brought is own camel cart and this too worked perfectly for watching the games. The bond grew as the days passed. Slowly local girls were also coming. We expected a more conservative participation from them but to our surprise we found all of them to be well informed, educated and smart. It was clear that girls in this village were being treated nicely at home and they were well empowered to take decisions in family matters. We came to witness this later when they organised a surprise event for us.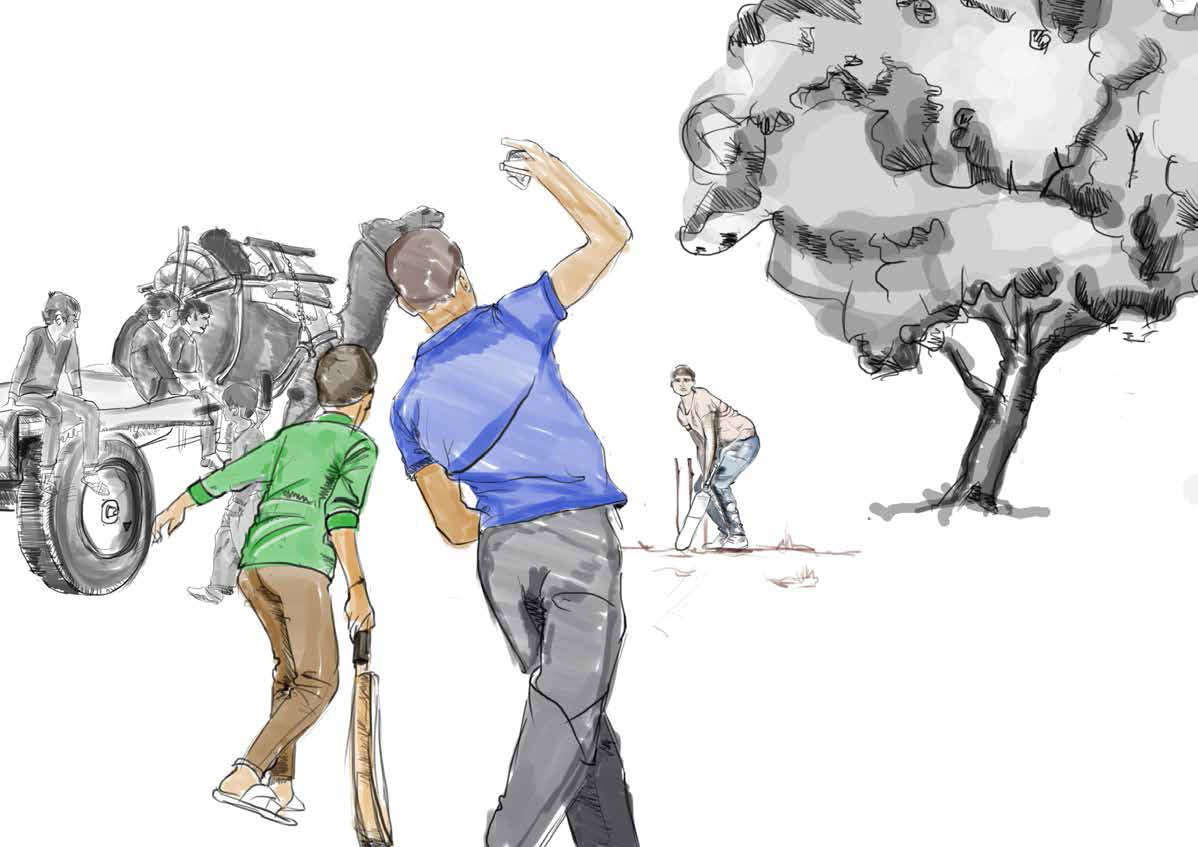 Cricket in India has the capacity to involve complete strangers with each other
Finally, the time came when the Nagaur Cattle Fair opened and our guests began arriving. Our cooks and stewards joined us. One afer another various cars carrying our guests used to arrive. None faced the problem in locating us as our 'new friends' were giving directions from miles before. The village men and elders used to congregate at our camp on 'chai', each one repeatedly assuring us that there is no need to keep anybody on watch and ward. We must sleep well in night to do work next day, they used to assert. Every passing the Fair was getting bigger and bigger.


The Nagaur Fair takes place in the month of February on the open ground adjacent to the city of Nagaur. The city of Nagaur was mostly part of the Marwar kingdom of Jodhpur and has a beautiful Achhitragarh Fort in the heart of the town. We especially like this Fort for its period feel and wonderful restoration works. Often our drivers make it a lunch stop for our guests while on the way between Jodhpur and Shekhawati. The City also has some nice Muslim shrines and the countryside around is known for spice farming. The place is almost on the edge of Indian Desert and this location, like Pushkar, makes it ideal venue for cattle trading. Camels are brought in large numbers and the famous Nagaur Oxen are also there. Tourists come to catch glimpses of human life interwoven with that of their livestock, an unusual scene with far less number of photographers vying for shots than in Pushkar. The preceding months in the Desert are known for chillies farming and bright red chillies are brought in heaps for selling in Nagaur Fair. All this and the usual Indian scene of Indian bazaars coming up and the entertainers doing the rounds make Nagaur Fair a good event to witness. Our Camp was just a mile away from the Fair.
The Camp came up very nicely. This was the first time when we had put the redesigned tents, each one having a beautiful sit out, study and open to sky bathroom. The tents smelled of fresh fabrics as in this new design the whole tent around the centrally placed large bed right under the main canopy felt like a giant soft cocoon of falling fabrics; drapes and drapes of cotton overlapping each other. As one would walk behind the bed and another set of curtains, there was a big utility room with a big wash basin and loads of space to keep luggage. It's only after one crosses this room would one find and open to sky room having the WC and gushing shower of hot and cold water. The front verandah of the tents had a large mattress for Indian style floor seating. One may enjoy beverages while being able to see everything around behind curtains of mesh. Even outside the tents one could lie under the sun on long chairs. No guest of ours had any idea that every tent would have so much inside. It was obvious that our local villagers friends had never seen anything like this and they were very curious to find what was there inside. We invited the local women, the mommies and grand mommas of those lovely children on tea and then used to give the tours of the unoccupied tents. Every day we,were getting a fresh set of women wanting to see the insides, the ladies used to come best dressed in bright clothes and long veils on their faces. We could read their smiles even under the veils though.
The dining pavilion was an even more interesting scene. We had created a large cleared space only for the congregation of our local friends. When we were not making meals for the guests, we were holing long tea parties for them. The best time was the time after sunset when every evening we had invited different troupes of folk dancers and singers. While our guests used to watch from the beautiful laid dinner tables, the locals used to sit in matted floor and they used to fully surround the performers. The performers were top notch artists of rare folk arts like Kuchamani Khayal and Terah Taali. Each day there was something different but equally enthralling. However, the one common performer and with a set of acts common on all days was our own magician 'Mehak Ali' who has been performing for our guests for more than a decade now. He rarely adds anything to his tricks, it's the same game over and over but he always succeeds in keeping everybody spell bound. He got extremely popular among the kids, like a pied piper. For kids and women we separately kept a show in one afternoon and even held a painting competition for the kids.
Empowerment is a very potent energy to help make an idea like camping nurture and become socially acceptable. There is a vast section of Indian masses which is curious about the new technology driven businesses. Nobody wants to be an onlooker but wants to participate in some way. Being able to help makes them feel empowered and accepted. Even the tourists coming to India have desire to know the people in their normal social behaviour- what contemporary influences have brought positive changes in their lives and how much of core values are still intact. Being accepted in the eyes of foreign tourists whom they consider as symbols of modern world is very empowering to them. The women especially get benefitted as in their own families they are able to showcase their prowess in equitable social behaviour.
The wonderful conclusion- We are the most thankful to the two girls of the village. Jyoti had just finished studies and was soon going to get married. Rani was her friend and neighbour. Both the smart girls were able to convince us that for one day we get all our guests to their village homes. We didn't much know what to expect but at appointed time we all walked to the village street with boys and girls leading the trail. There, in each courtyard and on rooftop of every house of the neighbourhood it was a scene like a wedding event. Old ladies, young women, girls, boys and old men all dressed in their best were keen to show their homes. Tea, biscuits and savouries followed. It was a grand social bonhomie. On the open street, a big mobile DJ van was called. Loud local songs were played, the women sang in chorus and everyone, men, women, children, tourists and us danced, danced and danced.
The connection that was formed in that year continues and grows. We still get invited to their weddings and events. Those girls are now happily married. We didn't forget to send mementoes and trophies for the participants and winners of kids painting contest.
Indianmoments ground level worked stories for environment, local supports and others responsibilities